Fire Damper Inspections and Remedials
Fire Dampers are passive fire protection products used in heating, ventilation, and air conditioning (HVAC) ducts to prevent the spread of fire inside the ductwork, they are found located near or in fire-resistance rated walls, floors. Spring-operated fusible link fire dampers are commonly designed to activate when the temperature exceeds the limit (typically 72° C).
The fusible link releases the spring-loaded fire damper to contain the fire within the ductwork space. This ensures that the fire does not spread through the ductwork ventilation system. BS9999 defines a fusible link as a "device that releases a component such as a fire damper or fire shutter at a set temperature".
Fire dampers can also close following receipt of an electrical signal from a fire alarm system utilising detectors remote from the damper, indicating the sensing of heat or smoke in the building occupied spaces or in the HVAC duct system.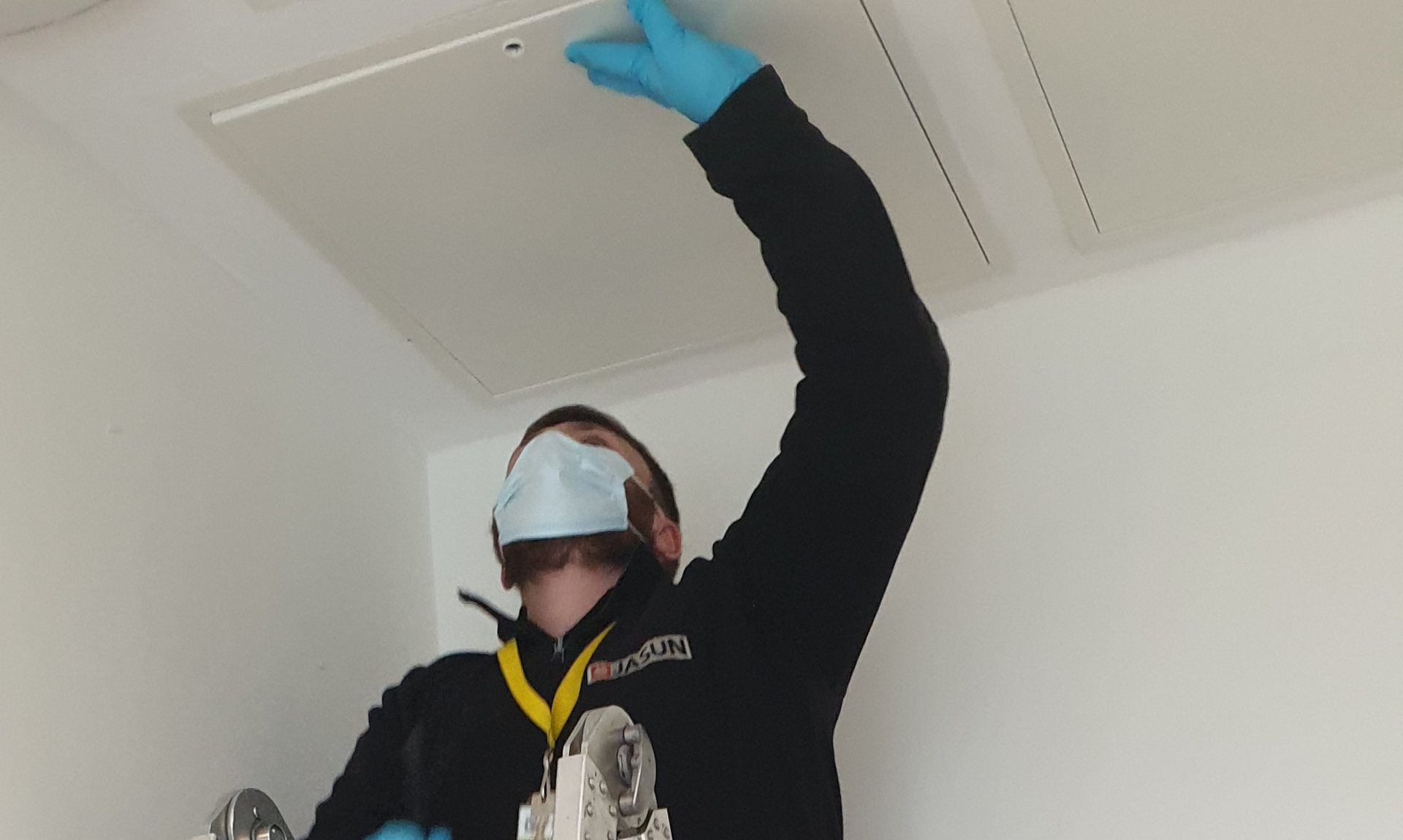 Fire dampers, therefore, are a vitally important part of any ventilation system and a buildings fire protection strategy. Your fire dampers need to be a part of your fire safety and PPM maintenance programme to ensure correct operation. Indeed BS9999:2017 Fire safety in the design, management and use of buildings. Code of practice, calls for the following:
"All fire dampers should be tested by a competent person at regular intervals not exceeding one year, and to be repaired or replaced immediately if found to be faulty. Spring-operated fire dampers should be tested annually and fire dampers situated in dust-laden and similar atmospheres should be tested much more frequently, at periods suited to the degree of pollution."
Jasun Envirocare are experts in inspection, cleaning and testing of Fire Dampers with highly trained and experienced engineers located in keys locations throughout the UK allowing us to provide a national service. We also offer remedial works to faulty fire dampers, we will work with you and provide recommendation to come to the best solution to overcome inaccessible fire dampers.
Kitchen Extract Ventilation
Fire dampers should not be fitted within Kitchen Extract Ventilation systems (BS 9999:2017 Clause 32.5.2.2 and 32.5.4). Where fire dampers are still found in older installations, these systems should be tested annually, as a minimum, as required by BS 9999, or removed from the system entirely. Removal is recommended and will require a review of the fire risk assessment.
Therefore it is essential to ensure that you are complying with your statutory requirement to test, clean and inspect your fire dampers within your premises in compliance to BS9999:2017
Reference: Technical Bulletin VH001
E-Mail us on service@jfilters.com
Call us now on: 02392 644700
Order products online at: www.jfilters.com