AHU AIR FILTER FITTING SERVICE
AHU Air Filter Fitting Service
Grease, dust, and dirt can accumulate in the ducting and air handling units of an extraction system, because at either end there will be an air handling unit or extraction fan. The cleanliness and performance of the system can be compromised if this debris is allowed to build up.
Condensation is also frequently present within an air-handling unit, which provides heated or chilled air. And this moisture can cause corrosion to drip trays and floors. Fortunately, these can be economically repaired and coated to provide a cost-effective alternative to replacing the entire unit. Filter changing is a further service that can also be provided.
The replacement of drive belts and pullies is sometimes necessary to maintain performance, and we have the techical expertise ability to conduct specialist processes such as these. Additionally, we can replace the automatic roll on filter mechanisms within air handling units.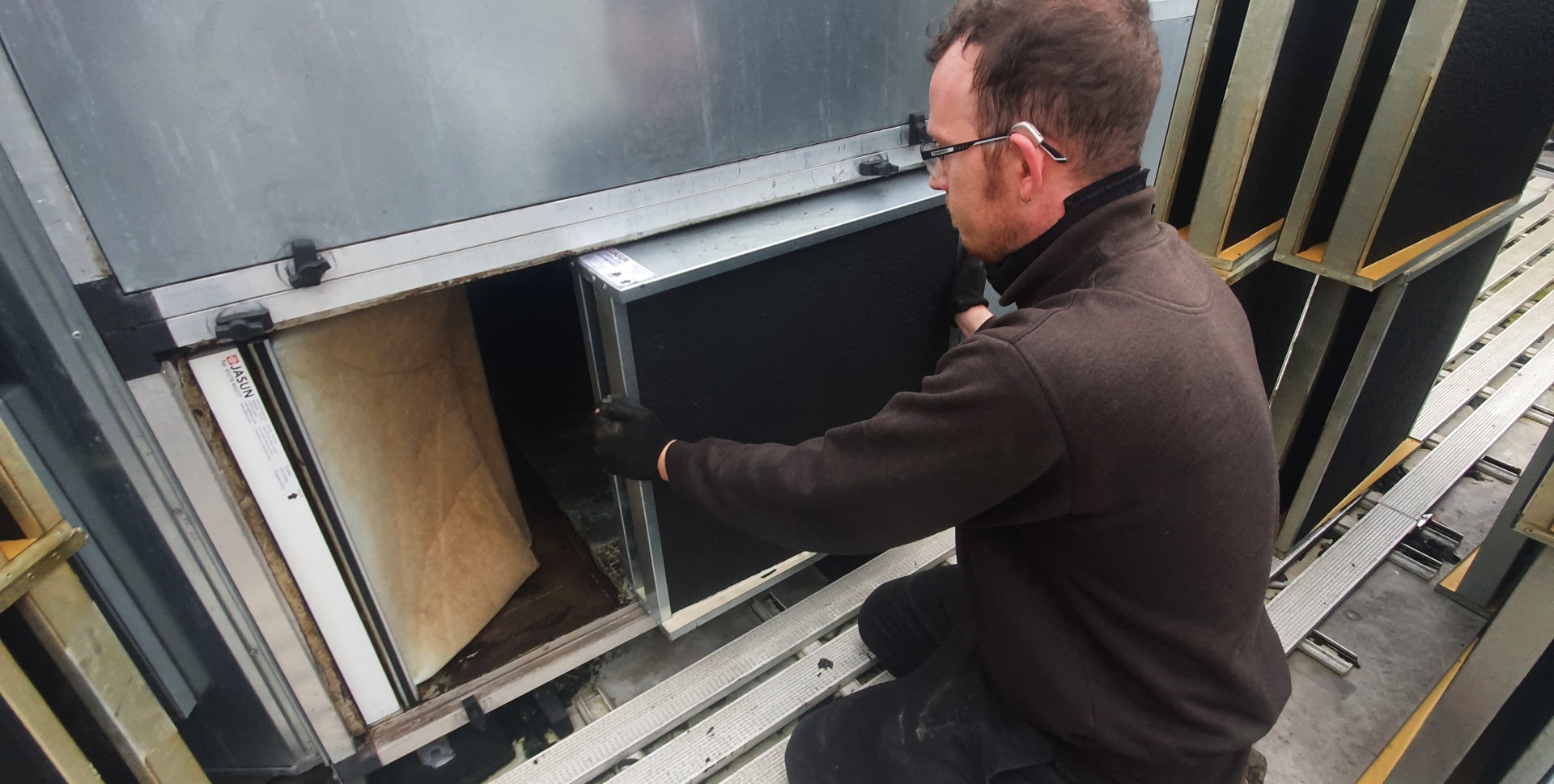 Expertly fitted and correctly maintained air filters on your building's HVAC systems have many benefits including:
• Indoor air quality is improved - By stopping the movement of particles, pollutants and gasses around your system, the air in your building will be cleaner.
• Your HVAC systems will be more efficient - If dirt builds up on moving parts, the system will need to use more energy to work.
• Costly repairs can be avoided - Leaving your system with inefficient air filtration can lead to expensive repairs later on.
It is recommended that the air filters be changed every 3 three months at a minimum. And inspection of the air filters and air handling system should be carried out on a monthly basis.
Maintaining a regime of regular air filter changes can be challenging. But air handling planned preventative maintenance, such as changing air filters in your air handling system is essential. Regular air filter changes help to ensure maximum running efficiency, maintain a good level of Indoor Air Quality (IAQ) and ensures that you remain hygiene compliant across your manufacturing facility.
Contact us now for more information.
Call us now on: 01278 452 277
Order products online at: www.jfilters.com